The festival shows will be accessible for people with comprehension difficulties
The 69th edition of the Mérida Festival will have all the written information accessible to people with comprehension difficulties, through the use of Easy Reading. This work is carried out by the Office of Cognitive Accessibility of Extremadura (OACEX).
Easy reading
Easy reading is a way of creating documents so that people with comprehension difficulties can understand the information they read.
30% of the population benefits from Easy Reading: people with intellectual disabilities, the elderly, foreigners, immigrants, children, etc. A percentage that translates into 300,000 people in Extremadura and 13 million in Spain.
Rules
In Spain, there is the UNE standard that explains how to make reading easy. At OACEX we also follow easy-to-read European standards.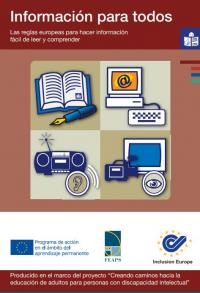 Validation is important in easy reading. To validate is to check if an adapted text is understood. Validation is commonly used with people with intellectual disabilities.

This blue logo is the easy-to-read logo. When you see this logo on a website, a document or a book, it means that it is easy to read and that is why it is easier to understand.
Easy reading information
All the information related to the works that will be performed at the 69th edition of the International Classical Theater Festival of Mérida is presented on the festival's website.
Access to the information in Easy Reading can be achieved through two options:
Scanning the QR codes that appear in the theater information on paper and on information panels.
From the festival website.
Soon the links to the programs will be added in the "Cognitive accessibility" section of the web.
Adaptation of "Medea" to easy reading and reading workshop
This 69th edition of the history and myth of Medea will be a version in Easy Reading based on the book by Seneca. It was translated and adapted by Miguel de Unamuno from the original text which was first performed at the Roman Theater, in 1933.This was first presented to the public on April 20, 2022 to include people with comprehension difficulties in a Workshop / dramatized reading of this "Medea." It also happened to coincide with International Book Day that year.
"Diviértete" Award in the "Tourism, Leisure and Culture" category for the Mérida Festival Board of Trustees Consortium in the first call for the OACEX 2022 Awards. It won the best cognitive accessibility performance in Extremadura, for the presented project and best practices.