In 2017 the Mérida International Classical Theatre Festival inaugurated its fourth extension in the Roman city of Cáparra, the first stage hosting the event in the province of Cáceres. The festival had previously been extended to Medellín, Regina and Madrid.
A few kilometres from the city of Plasencia (Cáceres), in the municipalities of Guijo de Granadilla and Oliva de Plasencia, we find the charming site of Cáparra. Under the dominance of Rome, this town would become an important communications hub on the north-south axis between Augusta Emerita (Mérida) and Asturica Augusta (Astorga) along the Via de la Plata. This strategic location ensured it a preferential position among the Roman municipalities of Lusitania, boosting its development and gradual monumentalization, to which the numerous archaeological remains left today bear witness.
Completely walled, Cáparra had three entrance gates, located respectively to the southeast, east and west. Two were the main routes serving as axis, the Cardo and the Decumanus. In the centre of the site stands Cáparra Arch, the undisputed symbol of the town and next to which the stage will be mounted as the venue for the various scheduled plays that are detailed below.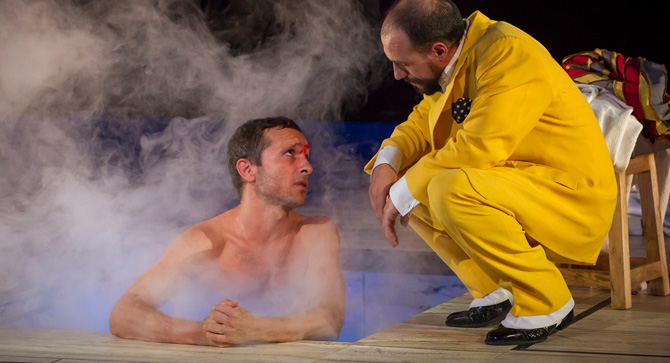 9 August 20182018
Calígula
(Caligula)
By Albert Camus
Mario Gas directs Albert Camus' Caligula, starring Pablo Derqui and which deals with recurrent themes in the author's works such as the existential absurd, metaphysical alienation, suffering and the logic of power.
Caligula is one Albert Camus' great dramatic works. Based on the Roman emperor described by Suetonius, Caligula is actually a series of works in one. The protagonist of the play, interpreted by Derqui, finds himself face to face with the absurd after the death of his sister/lover and submits his subjects to a terrifying series of demonstrations of what he considers to be the absurd truth: that "men die and they are not happy".
Derqui had previously worked under the direction of Mario Gas in Arthur Miller's "Death of a Salesman" at Teatre Lliure in 2009. The play, which criticizes conservative ideals and the fallacy of the American dream, consecrated Miller as a playwright in 1949.
Author: Albert Camus 
Translation: Borja Sitjà 
Dramaturgy & Direction: Mario Gas 
Cast: Pablo Derqui, Borja Espinosa, Pep Ferrer, Mónica López, Pep Molina, Anabel Moreno, Ricardo Moya, Bernat Quintana, Xavier Ripoll
A co-production by Festival Internacional de Teatro Clásico de Mérida, Teatre Romea and Festival Grec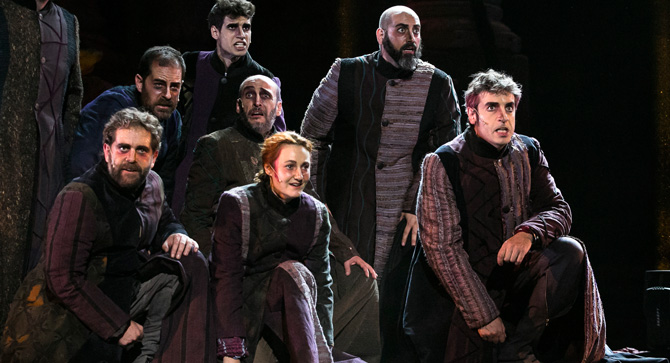 10 August 2018
El cerco de Numancia
(The Siege of Numantia)
By Miguel de Cervantes
El cerco de Numancia tells us of the heroic struggle against the invasion, humiliation and injustice of a people who feel crushed by the military power of Rome. During the twenty years that the siege of Numantia lasted, of which the Romans were deeply ashamed, the Celtiberians put up a resistance that became a myth in history and that Cervantes reflected as such.
Marandro, in love with Lira, decides to resist with his people the siege laid by the Roman army, under the orders of Scipio, on all the inhabitants of Numantia. They are willing to die before surrendering alive… But it also talks about closer, present-day, more familiar Numantias… about the power that continues to grip the weak. It isn't such an ancient story, but an eternal one…
Author: Miguel de Cervantes 
Version: Florián Recio
Direction: Paco Carrillo
Cast: Fernando Ramos, Ana García, Pedro Montero, Paca Velardiez, Manuel Menárguez, David Gutiérrez, Juan Carlos Tirado, José Fco. Ramos, Jesús Manchón.
Extras: Asociación Cultural Emerita Antiqua
A co-production by Festival Internacional de Teatro Clásico de Mérida and Verbo Producciones.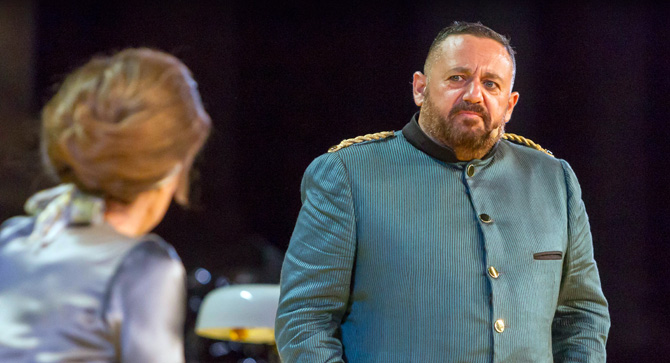 11 August 2018
La comedia de las mentiras
(The Comedy of Lies)
By Pep Anton Gómez and Sergi Pomermayer
Athens. A brother and sister, Hippolyta and Leonidas, have fallen in love. She, with a young man called Tindaro, and he with a girl called Gimnasia, who is … a flute player. But neither Tindaro nor Gimnasia are the ideal partners in the eyes of Hippolyta's and Leonidas' father, a stubborn miser, who is a wine, cloth and lyre merchant. He is currently away on a business trip and has left his sister, Cantara, in charge of his house. She is a spinster aunt who has been waiting forty years for Philemon, the love of her youth, who one day went out to buy figs and never came back.
Hippolyta wants to elope with Tindaro, but not without first getting the dowry that her father refuses to give her. How can she do it? By lying. Leonidas wants to elope with Gimnasia because Degollus, a Macedonian general, has bought her for his use and enjoyment, and intends to take her away. How can he do it? By lying. Calidoro, a slave to all, who has taken care of and seen the brother and sister grow up, says "the only thing I never did was breastfeed them", and is forced to help them. How? By lying. In the meantime, Cantara, after so many years of abstinence, falls in love with a young man called Titinio, who isn't really called Titinio, because Titinio is a liar. And Degollus turns up, who neither turns out to be who he claims he is, because, of course, he is also a liar.
And on top of all these lies, loads of pirates, and an old man called Postumus. And Tiberia, always snoop and rabid, and a mysterious mother, who we don't really know what happened to her, some squid, and pears, lots of pears, and the wonderful verses of Sappho, and some more lies. And all these lies concocted as not to come to blows and for love to triumph. Ah, and so that poor Calidoro will not end up receiving the blame for everything as always. But, as you can imagine, being a slave, it's not going to be easy.
Authors: Pep Anton Gómez and Sergi Pomermayer
Direction: Pep Anton Gómez
Cast: Pepón Nieto, María Barranco, Paco Tous, José Troncoso, Angy Fernández, Raúl Jiménez, Marta Guerras
A co-production by Festival Internacional de Teatro Clásico de Mérida, Mixtolobo and Pentación Espectáculos.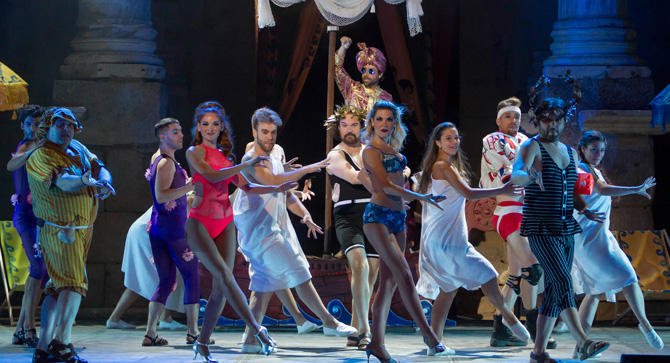 12 August 2018
La bella Helena
(La belle Hélène)
By Jacques Offenbach
Eris, the goddess of "discord", provokes a competition to discover which of the three goddesses of Olympus is the most beautiful: Athena, Aphrodite or Hera. The judge will be a shepherd called Paris. In order to win the title of "the fairest of them all", Aphrodite promises the shepherd he will be granted the favours of the most beautiful woman in the world: Helen, the Queen of Sparta. The conflict arises when Eris plays with the fates of all to fulfil the goddess of love's promise. Not only will Paris have to fight against Menelaus, beautiful Helen's husband, but also against Calchas the soothsayer, as well as the kings of Greece Agamemnon, Achilles, and Great and Little Ajax… however, the worst comes to the worst when he ends up head-over-heels in love with the unrivalled and sensual Helen.
The story will show us how Ancient Greece was afflicted by corruption in an ironic, light-hearted and very musical way. At the end we will see how the most important war of antiquity was sparked, which will take all our characters to Troy.
Author: Jacques Offenbach
Adaptation: Miguel Murillo and Ricard Reguant 
Direction: Ricard Reguant
Cast: Gisela, Leo Rivera, Rocío Madrid, Javier Enguix, Josean Moreno, Cata Munar, Cayetano Fernández, Marta Arteta, Graciela Monterde, Joan Carles Bestard, Clara Alvarado, Tamara Agudo, Pablo Romo, Mikel Hennet, Javier Pascual 
Choir: Lara Martorán, María Amado, Alba Gómez, José Antonio Sáez, Helena Guerrero, Silvia Reguera, Daniel Balas, Marta Manchón, Nuria Llano, Marta Castell
A co-production by Festival Internacional de Teatro Clásico de Mérida and Rodetacón Teatro