The commitment of the Mérida International Classical Theatre Festival to extend its influence, magic and contribution to the performing arts beyond the Roman Theatre of Mérida means it has been collaborating for years with the Regina Theatre Festival, at Casas de Reina.
As a result of this collaboration, the Mérida Festival sponsors the most important performance of this event organised by Casas de Reina Town Council, which this year celebrates its 12th edition.
This summer Regina Festival audiences can enjoy the Extremadura play Viriathus.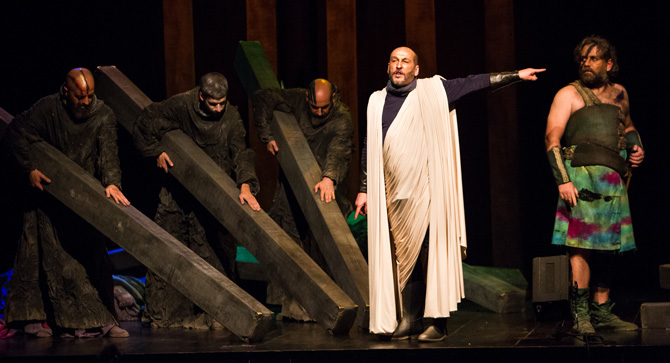 3 August 2018
Viriato
By Florián Recio
Rome appoints Viriathus amicus populi romani, as a prize to the mercy shown by the Lusitani leader when sparing the life of the general Servilianus and his men. A period of peace begins for Viriathus and his people. But Caepio, the new consul, is not willing to allow a barbarian to be proud of having forced to Rome to sign a treaty. With the connivance of the Senate, he breaks this peace treaty. Viriathus has become a symbol for the enemy tribes of Rome. And Caepio seeks to demonstrate that there is no symbol strong enough not to be crushed by Roma. Even if it's by treason…
Viriathus is, however, not just a story of the ups and downs of the Lusitani leader. It's a reflection on war. On how the fight for power, greed, blindness for mercy are the reason why in the history of man war is the norm and peace the exception. Hundreds of thousands of refugees are proof of this today.
Author: Florián Recio
Direction and dramaturgy: Paco Carrillo
Cast: Fernando Ramos, Ana García, Pedro Montero, Manuel Menárguez, David Gutiérrez, Jesús Manchón, Juan Carlos Tirado, Paca Velardiez, José F. Ramos.
A co-production by Festival Internacional de Teatro Clásico de Mérida and Verbo Producciones