The off programme of the Mérida International Festival of Classical Theatre, Agusto en Mérida, consists of a series of interventions that contribute to the dissemination of classical culture through educational, leisure and artistic activities. Archaeological sites of the city are revitalized, such as the Temple of Diana, the Forum Portico and the thermae at Calle Pontezuelas, bringing Greco-Roman classical culture back to these privileged scenarios during the months of July and August, under the direction of TAPTC? Teatro, performed by students of Taptc? Drama School, belonging to the ESAD, members of theatre groups from other towns and different artists from Mérida.
Agusto en Mérida has three basic goals: to disseminate Greco-Roman culture to the public at large; to offer fun artistic activities, and to bring the classical theatre performance closer to Mérida amateurs.
Below are the activities to be carried out during the programme.
There are three types of activities: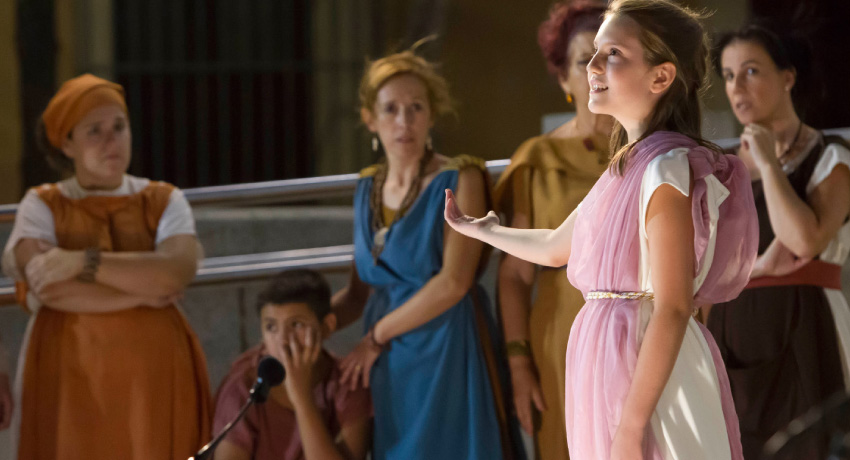 Drama Workshops
January to March: adaptation of original texts, dramaturgy and version workshops. Organization of human and material resources.
March: Meeting with the people interested in participating in the performance Simposio – El banquete (Symposium – Banquet).
April: start of Simposio rehearsals.
May: meeting with the people interested in participating in the other plays.
June, July and August: 4 theatre-workshops of different plays and activities.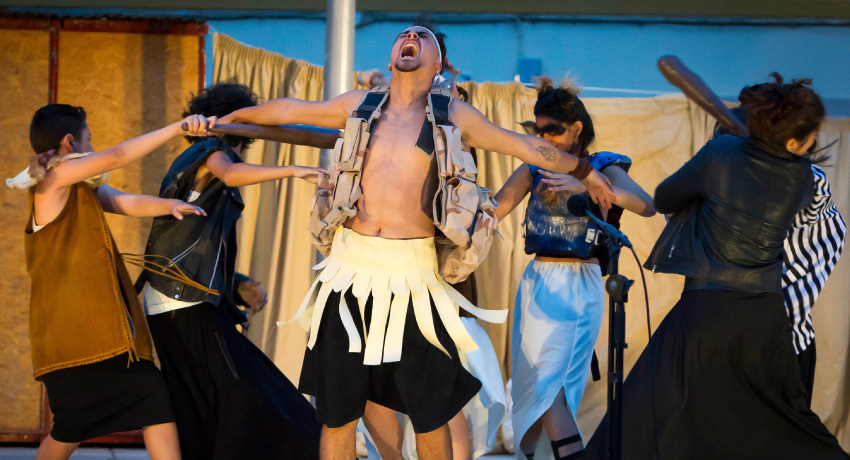 Theatre Performances
At the forum portico
From Wednesday 18 to Friday 20 July
Simposio (El banquete)
(Symposium (Banquet))
Stage adaption by Javier Llanos based on Plato's dialogue SYMPOSIUM. 
S.E.T. (Servicio de Emergencias Teatrales) – Escuela de teatro TAPTC?. 
Direction: Javier Llanos.
Young and adult audience.
Plot summary: Two women recall a banquet at the house of the tragic poet Agathon where Socrates, Aristophanes and other intellectuals of the time speak about love.
Category: Narrative, with comic elements.
At the temple of Diana
From Monday 23 to Thursday 26 July
Lysístrata
(Lysistrata)
Adaptation by Raquel Bazo of Aristophanes' play with the same name.
Campo Internacional de Voluntariado "Festival de Mérida" and Escuela de Teatro TAPTC?. 
Direction: Raquel Bazo.
Comedy. Family public.
Plot summary: Due to the continued fighting between Athens and Sparta, women in both cities decide to launch a sex strike until the men lay down their arms. The agreement spreads to other cities so it will have an impact on the fighters of both sides.
Category: Classical Comedy. The Chorus of the citizens of Athens, Boeotia, Corinth and Sparta will be played by the participants of Campo de Voluntariado "Festival de Mérida".
From Monday 30 July to Thursday 2 August
Los siete contra Tebas
(Seven Against Thebes)
Adaptation by Juan Carlos Tirado of Aeschylus' play with the same name.
Escuela de Teatro TAPTC?
Direction: Juan Carlos Tirado.
Tragedy. Adult audience.
Plot summary: The brothers Eteocles and Polynices, sons of Oedipus and grandsons of Laius, bear the curse of their elders. Although aware of their fate, they cannot avoid it, and kill each other in a terrible fratricidal fight in front of the walls of Thebes.
Category: Classical tragedy.
In plaza Pontezuelas
From Monday 6 August to Thursday 9 August
Ulises
(Ulysses)
Adaptation by Jonathan González, of the epic poem "Odyssey" attributed to Homer.
Escuela de Teatro TAPTC?.
Direction: Jonathan González.
Comedy. Family audience.
Plot summary: Ulysses comes home after the end of the Trojan War. His wife Penelope is waiting for him… or that's what he thinks. The journey will be full of obstacles that Ulysses must overcome with the help of his companions.
Category: Comedy. Clown.
In plaza de los naranjos
From Monday 13 to Thursday 16 August
Los gemelos de Híspalis
(The Hispalis Twins)
By Javier Llanos based on "The Two Menaechmuses" and other works. 
Escuela de Teatro TAPTC?.
Direction: Javier Llanos
Comedy. Young and family audience.
Plot summary: Two twin brothers born in Hispalis in the early centuries of our era lose touch when they are small. They are reunited in manhood in Augusta Emerita, leading to humorous antics and misunderstandings between the characters and the audience.
Category: pure comedy of intrigue for family audiences.
Agusto En Mérida Por Barrios
7 de Julio a las 21:00 en el anfiteatro del Parque de la Avenida Antonio Campos Hoyos (Nueva Ciudad) y 8 de Julio a las 21:00 en las traseras de la Ermita de La Antigua
Edipo Y Los Labdácidas: ¡qué Familia!
Original de Raquel Bazo.
Produccción: TAPTC? teatro y Festival de Mérida
Reparto: Raquel Bazo, Francis Quirós y Jonathan González
Espacio Sonoro: Javier Llanos.
Dirección: Raquel Bazo, Francis Quirós, Jonathan González y Javier Llanos.
Sinopsis: Recorrido en clave de humor por el ciclo Tebano, que se inicia con el Rapto de Europa, continúa con la fundación de Tebas, la saga de los Labdácidas, el Oráculo, la llegada de Edipo a la ciudad… hasta la muerte de Antígona. Se narran los acontecimientos principales de las tragedias mencionadas y se relacionan con las teorías que en torno a ellas se han escrito a lo largo de los años. Los intérpretes presentan los distintos personajes al tiempo que ejempli can las acciones a un ritmo vertiginoso, incorporando gags cómicos en momentos trascendentes como refuerzo de la trama.
Género: Cómico Contemporáneo.
Patrocina: Delegación de Cultura – Excmo. Ayuntamiento de Mérida.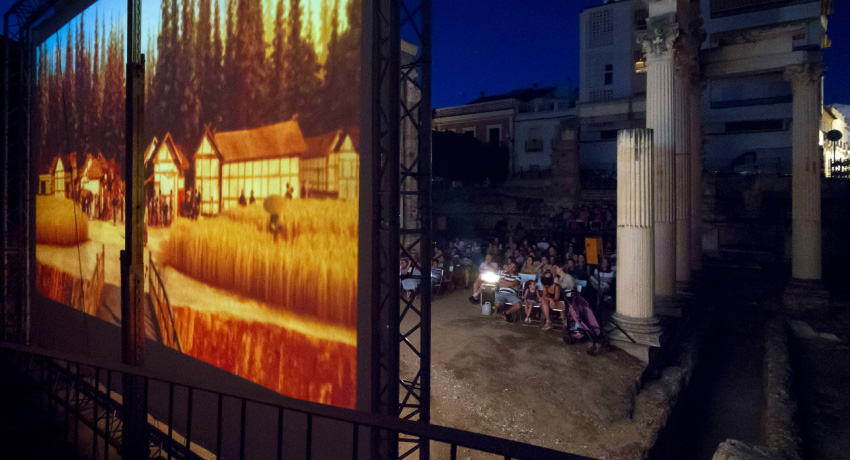 Cinema Aestas. Metamorfosis
The programme scheduled at Cinema Aestas de Agusto in Mérida, coordinated by TAPTC? Teatro, in collaboration with Filmoteca de Extremadura, focuses this year on the Metamorphosis.
We have selected for the Festival big screen seven films in which metamorphosis, transformation, is a fundamental part of the story. A concept that comes from ancient times and is common in Greco-Roman mythology, either due to the transformation of a celestial being into a human, animal or plant (Zeus in the form of a bull or a swan, Daphne transformed into bay laurel, Arachne turned into a spider by Diana, Circe transforming Ulysses' sailors), but also for other necessary changes in the characters for the development of the plot or for an improvement in their life.
Monday 9 July, at 22:30
Il racconto dei racconti
(Tale of Tales)
Directed by Matteo Garrone.
Cast: Salma Hayek, Vincent Cassel, Toby Jones, John C. Reilly, Shirley Anderson.
Year: 2015. Fantasy. 134 minutes. Original version with subtitles in Spanish.
Plot summary: Three different stories are interwoven, inspired on the many stories reflected in the book of the same name by Giambattista Basile. Kings and queens, princes and princesses, forests and castles of three neighbouring kingdoms coexist out of time and space with orcs, mythological animals, dragons, witches, old washerwomen and circus artists.
Monday 16 July, at 22:30
La llamada
(Holy Camp!)
Directed by Javier Ambrossi and Javier Calvo.
Cast: Macarena García, Anna Castillo, Belén Cuesta, Gracia Olayo.
Year: 2017. Musical comedy fantasy. 110 minutes. Original version with English subtitles.
Plot summary: María and Susana are two teenagers spending the summer at La Brújula, a camp run by nuns in Segovia. But the girls are partygoers and electro latino fans, so they go out at night to the nearby clubs. One night God appears to María, and captivates her with Whitney Houston songs. While she goes on her personal journey of rediscovery, her friend Susana will also have a revelation.
Monday 23 July, at 22:30
El profesor de violín
(The Violin Teacher)
Directed by Sergio Machado.
Cast: Lázaro Ramos, Kaique de Jesús, Elzio Vieira, Sandra Corveloni, Fernanda de Freitas, Hermes Baroli, Criolo, Rappin' Hood, Thogun Teixeira, Graça Andrade.
Year: 2015. Biography – Personal Improvement. 93 minutes. Original version with subtitles in Spanish.
Plot summary: Laertes, a talented violinist that has failed to be admitted into the prestigious State Symphony Orchestra, begins to give music classes to teenagers at a state school in Heliopolis, a slum area of São Paulo. This experience will change his life and the lives of his pupils…
Inspired on the true story of the Brazilian teacher Silvio Bacarelli, who in the 1990s managed to stimulate the social and cultural inclusion of young people in one of São Paulo's largest favelas.
Monday 30 July, at 22:30
Ex machina
Directed by Alex Garland.
Cast: Domhnall Gleeson, Alicia Vikander, Oscar Isaac, Sonoya Mizuno, Corey Johnson, Chelsea Li, Tiffany Pisani.
Year: 2015. Science fiction. Thriller. Original version with subtitles in Spanish.
Plot summary: A billionaire computer programmer selects a young employee from his company to spend a week with him in a remote place in the mountains to take part in a test of his latest creation: Ava, a woman-robot.
Monday 6 August, at 22:15
Una mujer fantástica
(A Fantastic Woman)
Directed by Sebastián Lelio.
Cast: Daniela Vega, Francisco Reyes, Luis Gnecco, Aline Küppenheim, Amparo Noguera, Alejandro Goic, Antonia Zegers.
Year: 2017. Drama. 104 minutes. Original version with subtitles in Spanish.
Plot summary: Marina is a young waitress and aspiring singer who has a relationship with Orlando, 20 years older than her. After a night of partying, Orlando dies on arriving at hospital. However, instead of being left to come to terms with her grief, Marina must face suspicion for his death, because both the doctor and Orlando's family mistrust her. Marina is a transgender woman who must fight for the right to be herself, having to fight against the same forces that she has spent a lifetime fighting to become what she is now: a complex, strong, passionate and fantastic woman…
Goya award for the Best Latin American film. Oscar Academy Award for Best Foreign Language Film.
Monday 13 August, at 22:15
Las heridas del viento
(The Wounds of the Wind)
Directed by Juan Carlos Rubio.
Cast: Kiti Manver and Daniel Muriel.
Year: 2017. Drama, based on the play. 75 minutes.
Plot summary: David's father death forces him to deal with his estate. Among his personal belongings he finds something unexpected: the love letters from another man. Baffled by the discovery, he decides to visit his father's supposed lover and find out the truth.
The film will be presented by the director and the leading actress.
Monday 20 August, at 22:15
My Fair Lady
Directed by George Cukor.
Cast: Audrey Hepburn, Rex Harrison, Stanley Holloway, Wilfrid Hyde-White, Gladys Cooper, Jeremy Brett, Theodore Bikel.
Year: 1964. Musical comedy. 170 minutes.
Original version with subtitles in Spanish.
Plot summary: On a rainy night in 1912, the eccentric and snobbish phonetics professor Henry Higgins meets Eliza Doolittle, a tattered vulgar flower seller. Her thick accent intrigues him so much that makes a risky wager to his friend, Colonel Pickering: he says he will teach her to speak "proper" English, thereby making her presentable in high society within six months.
A film version of the musical of the same name based on the stage play "Pygmalion" by George Bernard Shaw, with music by Frederick Loewe and libretto and lyrics by Alan Jay.